A trip to Kennebunkport, Maine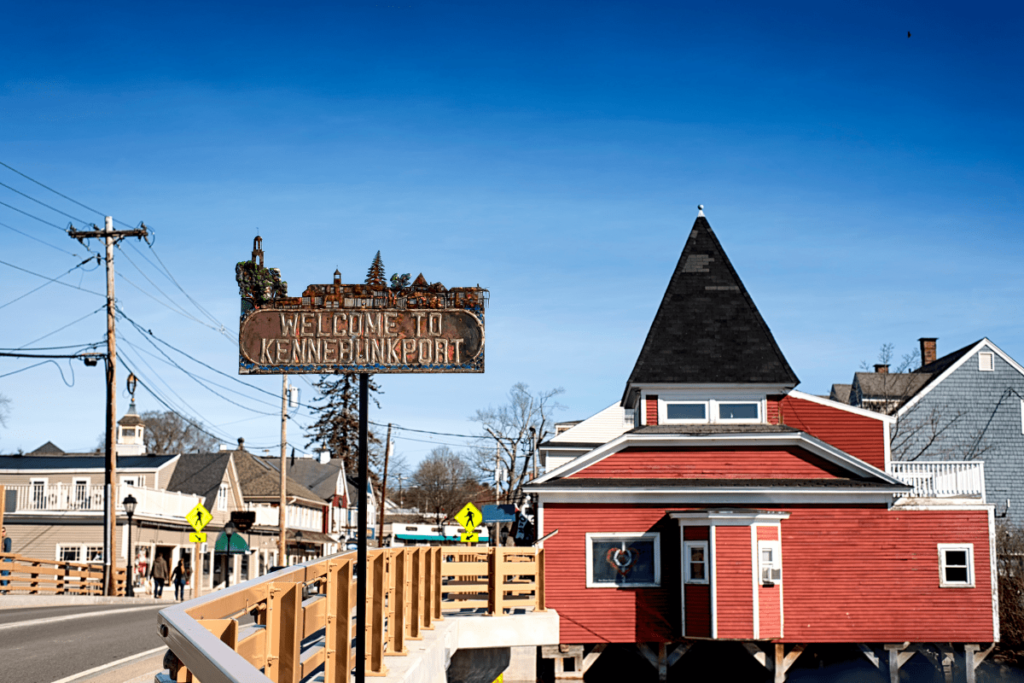 Kennebunkport | IG @kennebunkportnow
Picture a location where the tranquil waves of the ocean caress the shore, where every charming street echoes, with whispers of history and where the delightful aroma of lobster permeates the air. Welcome to Kennebunkport, a captivating town nestled in southern Maine. In this article, we will guide you on an exploration through the soul of Kennebunkport revealing why countless individuals are captivated by its allure and coastal charisma.
Kennebunkport: A charming coastal town
Kennebunkport | IG @kennebunkportmaine
Kennebunkport is a town that provides visitors with a chance to unwind by the ocean admire the beauty and indulge in the joys of coastal living. It is famous, for its enchanting New England charm and breath-taking surroundings. With its landscapes diverse seafood dining options, delightful shopping opportunities and a plethora of activities Kennebunkport offers something for everyone. It serves as a destination, for tourists seeking a tranquil beach retreat and an authentic experience of Maine's cultural heritage.
Layout of Kennebunkport Town
The Kennebunkport town features a New England design, with beaches, scenic harbors and a carefully maintained historic district. Here is an overview of the town's layout and the key attractions it offers.
Kennebunkports downtown, known as the heart of Kennebunkport is a hub centered around Dock Square. It offers a mix of allure, cultural diversity and rich history. Strolling through its streets you'll discover an array of captivating shops, restaurants and art galleries. The towns charming vintage style buildings further enhance its timeless appeal. Whether you're looking for activities to enjoy items to purchase or delicious meals to savor Kennebunkport's downtown has it all.
Discover the beachfront of Kennebunkport that stretches along the Kennebunk River. There are plenty of options such, as kayaking strolling alongside the riverside or even embarking on a boat adventure, down the waterway. This river offers an captivating experience allowing you to fully immerse yourself in the scenery vibrant greenery and diverse wildlife that inhabit this sanctuary.
Cape porpoise | IG @maine_igers
In Kennebunkport, there's a village called Cape Porpoise that is known for its views, picturesque harbor and relaxed ambiance. The port is home, to lobster boats and seafood restaurants where you can savor the various seafood in the area. It's a common occurrence to chill around and watch the fishermen at work. Moreover, you can also explore the landmarks nearby including the Goat Island Lighthouse that has guided sailors for over a hundred years. This village offers an escape from city life allowing you to embrace Kennebunkport beauty, with its laid-back vibe and exemplary New England charm.
Colony Beach | IG @townofkennebunkport
Swimming is always a say yes to activity. Colony beach in Kennebunkport is one to go as it offers various activities along this graphic coastline. You can enjoy walks, sunbathe or simply relax while watching the waves. Although it may not be as large as some beaches, it still offers a sanctuary away from the bustling crowds and an opportunity to reconnect with nature. This location is truly delightful, for appreciating the beauty whether you're lounging on your own on the beach exploring tide pools or simply relishing the ocean breeze.
Great Attractions in Kennebunkport
For those who have a passion for history, Kennebunkport offers two (2) major attractions that showcase the towns heritage; the Seashore trolley museum and the first families Kennebunkport Museum.
Seashore Trolley Museum | IG @seashoretrolleymuseum
The Seashore trolley museum, often regarded as the public transportation museum is dedicated to preserving the history of transportation. It boasts a collection of over 100 vintage trolleys, streetcars and other artifacts that provide insight into how people used to navigate Kennebunkport in the past before recent advanced transportation systems.
The first families Kennebunkport Museum
The first families building
The first families Kennebunkport Museum provides a captivating experience by honoring Maine's prominent families like the Bush family. This exceptional museum shares stories about these individuals and their significant contributions, to shaping the towns' identity.
Boating and Whale Watching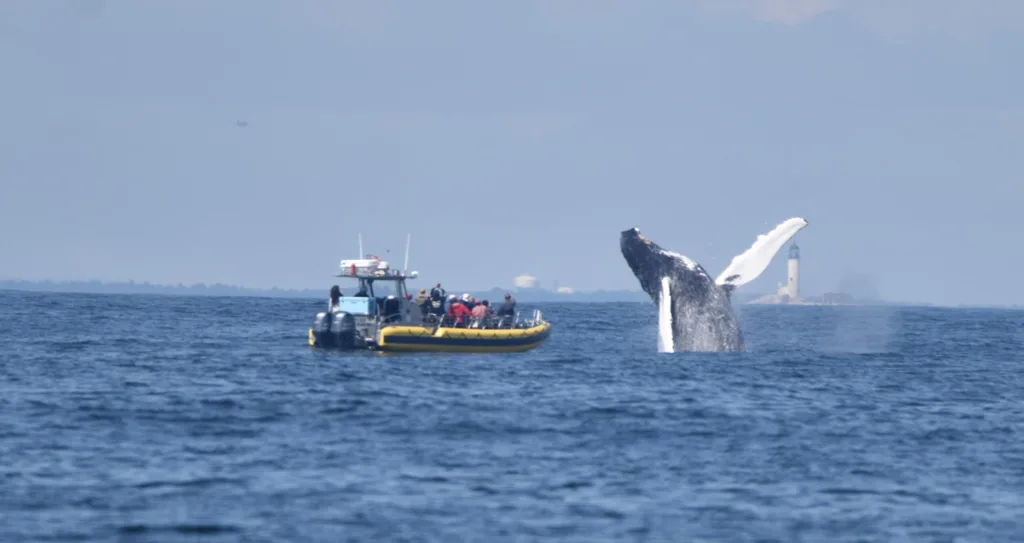 Both boating and observing whales are also ways to fully appreciate the beauty of the ocean and marvel, at natures wonders. It allows you to immerse yourself in the outdoors and create lasting memories within the Kennebunkport community. Whether you decide to bring your boat or rent one spending a day on the water guarantees a serene experience. You have options like sailing, paddleboarding or simply enjoying a boat ride. Observing these creatures in their habitat is truly awe inspiring. Anyone with an appreciation, for these species will thoroughly enjoy this thrilling and enlightening adventure.
Kennebunkport has a thriving art scene with numerous galleries to explore. Amongst them are these three (3):
Abacus Gallery | IG @abacusgallery
If you're interested, in discovering one of a kind and exquisite artwork I highly recommend visiting Abacus Gallery, in Kennebunk. This charming gallery offers a range of creations, including jewelry, glass art and pottery. It's a place to immerse yourself in the works crafted by skilled artists and discover that perfect piece that speaks to you.
Gallery at the Landmark | IG @galleryatthelandmark
The Landmark Gallery is a museum that showcases a collection of artworks, from both international sources. Visitors are invited to experience the beauty of nature the grandeur of the ocean and the enchantment of flowers within its walls.
At this gallery you'll have the opportunity to discover a range of expressions, from various corners of the world. The collection features various kind of paintings, sculptures and beautifully crafted jewelries. Each artwork is truly one of a kind and exclusive; you won't come across any reproductions. Unique! Isn't it?
Northlight Gallery | IG @northlightgallery
Here in Kennebunkport's Northlight Gallery, there is a display of varieties of artistic creations, from exquisite photography to paintings. It's an opportunity to fully immerse yourself in the creative process and recognize the artistic talent of others. It's a real experience to hang out and take in the art.
Goat Island Light | IG @kristynewengland
The Goat Island Headlight, also known as the Goat Island Lighthouse holds a presence, on Goat Island itself located near Cape Porpoise Harbor in the charming coastal town of Kennebunkport. Over the years, this lighthouse has served as an aid for ships and vessels in the area. Its distinctive height and design have made it an iconic landmark that is widely recognized. While visitors are not allowed inside, they can still enjoy views of the lighthouse, from land. While leisurely strolling through the town's streets. It truly adds to the ambiance of this coastal community. Ensure you have a look during your visit.
Walkers Point, Bush Estate | IG @rolling_doughnut_traveler
Kennebunkport's Walkers Point neighborhood is renowned for being one the very famous ex-president family – The Bushs- vacation home. It is situated along the Maine coastline and overlooks the Atlantic Ocean. Despite not being open to the public, visitors can still take in the stunning views from a distance. This area is renowned for its coastal beauty, and tourists often take the opportunity to explore the beaches and scenic spots in the area.
Fun Activities in Kennebunkport
Another lively stuff to do in Kennebunkport is to go kayaking and biking. Kayaking allows you to peacefully explore the coastline paddle, through waters and maybe even spot some wildlife along the way. If you're interested you can rent a kayak. Join a guided tour, for a more immersive experience.
Tourists biking and kayaking in Kennebunkport, Maine | IG @coastalmainekayakandbike
Another fantastic way to immerse yourself in the beauty of Kennebunkport is by cycling. Renting bicycles enables you to cruise along roads explore stunning beaches or take a delightful journey through the charming downtown area. With bike trails available for all skill levels it's a way to take in the sights while getting some exercise. Whether your preference lies on land or water these activities promise an adventure, in this paradise.
Local Cuisines and Restaurants in Kennebunkport
Kennebunkport features many lovely places to dine in and shaken your tastebuds. A few will be explored below
Chez Rosa's building and delicacies | IG @chezrosabistro
Chez Rosa is a quaint restaurant located in a New England barn. Their menu draws inspiration from the farms, pastures and abundance of shellfish. You are invited to dine with them for celebrations, intimate evenings or gatherings, with loved ones.
The Burleigh | IG @kennebunkportinn
The Burleigh is a welcoming gastropub in the center of Dock Square, housed inside the Kennebunkport Inn. It serves various dishes including small dishes, filling meals, inventive drinks, and regional beers and wines. Fresh seafood from Maine, specialty burgers, and inventive twists on traditional home-style meals are all available to diners.
Ocean Restaurant | IG @capearundelinn
The Ocean Restaurant lives up, to its name as its situated by the water. It provides an opportunity to savor a meal while soaking in the awe-inspiring views of the ocean. Begin your evening with some cocktails either outside the restaurant or at the bar. Then proceed to the dining room for your dining experience. The menu boasts a variety of top-quality seafood sourced from Maine, along with tantalizing dishes influenced by French cuisine. To cater to every palate, an extensive collection of wines is available as well. Why would you want to miss this luxury.
To explore more restaurants in Kennebunkport, visit here.
Hotels, Resorts and other Accommodation Options in Kennebunkport
The Kennebunkport town features many accommodation options which includes, but not limited to the Nonatum Resort, Kennebunkport Inn, and Hampton Inn.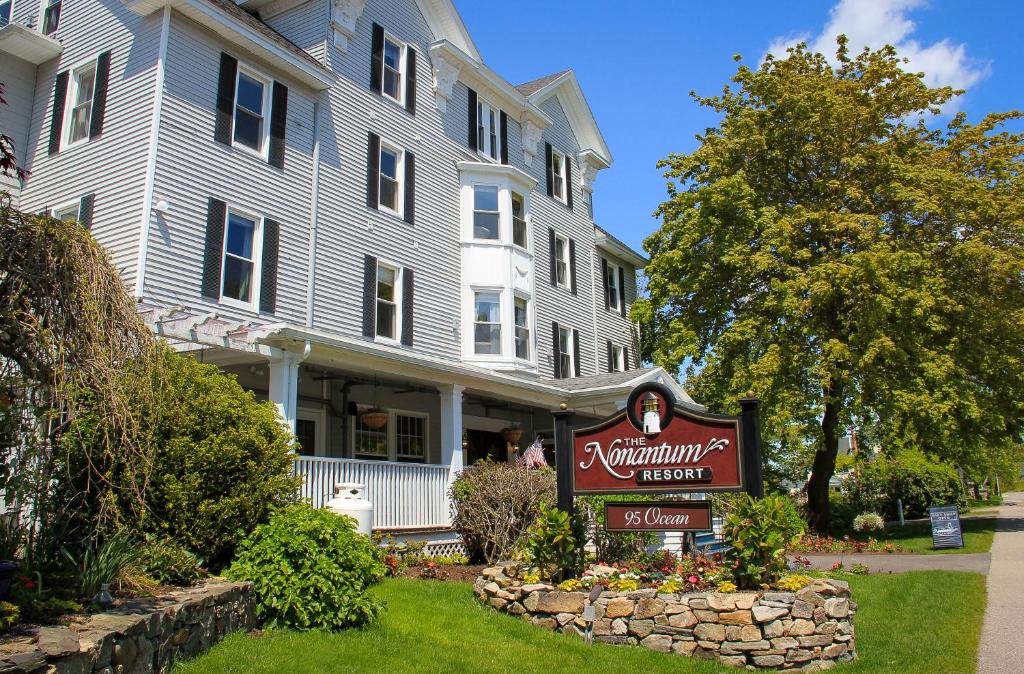 Nonatum Resort | IG @eatingthroughtheseacoast and nonantumresort_kennebunkport
The Nonatum Resort (h3)is a vacation spot, in the heart of New England, situated on the shores of Lake Champlain, Maine. With a history spanning over a century, this resort offers views of the waterfront. Guests can choose from types of accommodations including guest rooms and cozy family cabins that offer delightful river vistas. The resort also offers activities such as kayaking, paddleboarding and boat excursions for guests to enjoy. Its idyllic waterfront setting makes it an excellent choice for hosting weddings and other special events. The staffs are also warm and welcoming to families ensuring smooth vacations and gatherings.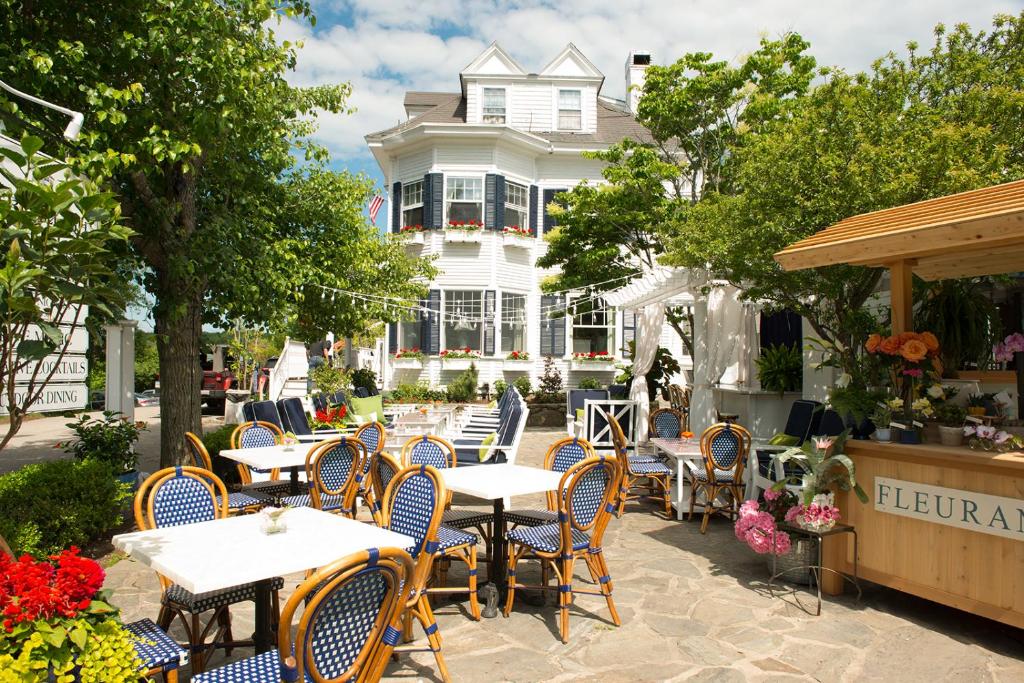 Kennebunkport Inn | IG @kennebunkportinn
The Kennebunkport Inn is that place where you can experience the warmth and sophistication of New England hospitality. With appointed guest rooms, thoughtful amenities and exceptional service, you will definitely have a comfortable time there.  Whether you're taking a stroll or exploring the towns attractions, the location of this inn makes them the perfect choice.
Hampton Inn Kennebunk, Kennebunkport
Hampton Inn | @Hilton.com
The Hampton Inn stands out as a sought after and widely recognized hotel, in the Kennebunkport region. Its strategic location near the town of Maine adds to its appeal. Renowned for its staff kept accommodations and convenient proximity to all amenities essential for a delightful stay at this establishment, the Hampton Inn ensures a memorable experience.
To explore more inviting accommodation options in Kennebunkport, visit here
| Data | Values |
| --- | --- |
| Location | York County, Maine |
| Attractions | Museums, Arts and Culture, beautiful beaches |
| Climate | Humid Continental Climate |
| Average Temperature | 43 degrees fahrenheit |
| Population | 3,629 |
Kennebunkport is easily accessible from many directions and is situated in Maine. The nearest major airport for air travel is Portland International Jetport, which is around thirty minutes away. To book a flight, visit here. An alternative means of transportation is the Downeaster Amtrak train service in Maine. Once you arrive, biking and strolling is a great way to see this charming seaside town due to its modest size.
It's essential to be well equipped for the activities and changing coastal weather that Kennebunkport, Maine offers. Let's talk about the items you should pack to ensure an enjoyable visit.
Clothing Choices
Since Kennebunkport experiences fluctuating weather conditions it's an idea to bring clothing options that can adapt to temperature changes. Don't forget to include a rain jacket or windbreaker in case of showers as coastal areas are prone to them. Beach wears, hats and sunglasses and flexible shoes are other things to consider.
Toiletries and Outdoor Essentials
For toiletries, you should pack sunscreen for sun protection, mosquito repellent creams as well as your personal packs.
Outdoor Accessories
Make sure to bring along a beach towel and bag for when you head to the coast. It's okay to pack an umbrella, preferrable the portable one as the weather can be unpredictable. If you're planning on having a picnic, don't forget to pack all the supplies, like a picnic blanket and some snacks. For those who love activities and want to explore trails or nature reserves, remember to bring your hiking gear.
Additionally, you also need a pocket camera, power-bank and your adapters. However, if you don't want to pack excess luggage, you can get most of these things in the town as long as you have enough money.
Vacation and Tourism in Maine
Need to explore the beautiful places in maine? We got all you need to know 
Checkout various activities you can enjoy at Old Orchard Beach
Checkout the beautiful arcadia national park and various things to do
Touring portland Headlight
Think headlights are old? Check out the beautiful things about the portland headlight