Acadia National Park: A Must Visit Site In Maine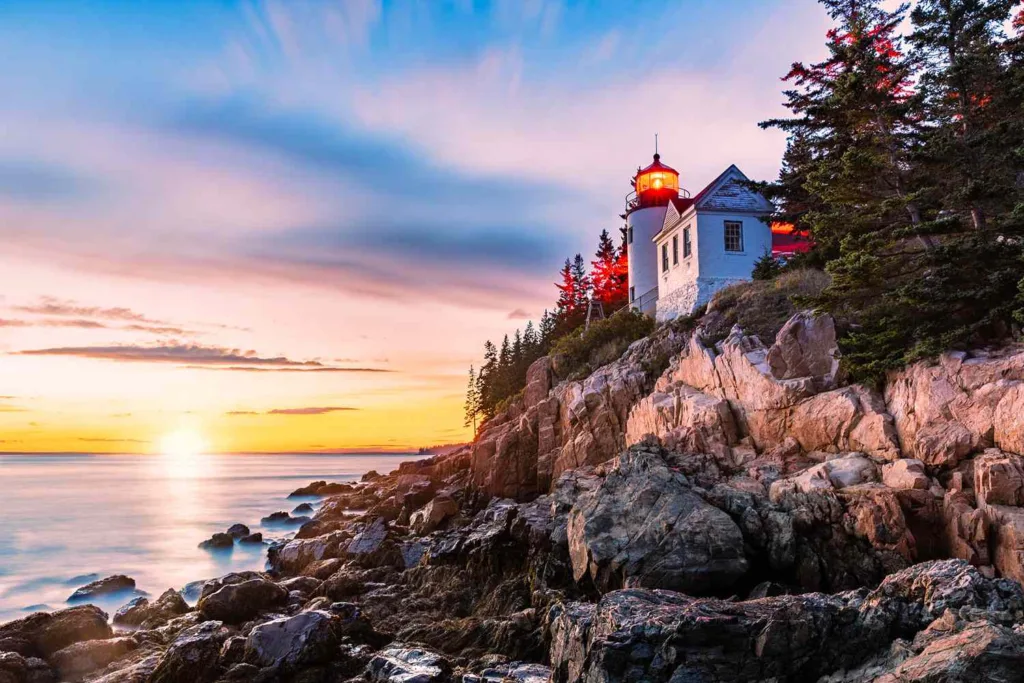 The Park: If there were a sanctuary in the heart of nature, Acadia National Park would surely be its embodiment.
Acadia National Park is a striking and distinct natural gem celebrated for its breathtaking landscapes, lush forests, rugged mountains, and pristine lakes. A particular adage comes to mind when thinking about the Acadia National Park- "Take nothing but pictures, leave nothing but footprints" as the park has successfully maintained its charm and uniqueness due to good perseverance. Acadia provides a wide choice of outdoor activities as well as cultural encounters, making it more than just a retreat for tourists and nature lovers.
Things To Do In Acadia National Park
Tourist watching the sunset on cadillac mountain
One of the natural wonders, in Acadia National Park is the Cadillac Mountain Hike. As the peak on the North Atlantic coast, Cadillac Mountain offers awe inspiring views making it a treasured destination within the park. The captivating aspect of hiking Cadillac Mountain lies in witnessing its sunrise or sunset vistas. Being among the spots in the United States to witness sunrise it's a remarkable moment to cherish. Whether you opt for an early morning adventure to greet the sunrise or a late afternoon hike to bid farewell to the day. Cadillac Mountains trails offer you an opportunity to immerse yourself in Acadia's splendor. It serves as a way to connect with nature and appreciate the parks allure. Remember to check weather and trail conditions before embarking on your journey and bring along some layers even during summer months temperatures, at the summit can be quite chilly.
The primary route to access Acadia National Park's hiking trails and natural attractions, including the park's highest point, Cadillac Mountain (which stands at 1,530 feet), is the Park Loop Road, which is 27-mile-long. The loop road also features many other attractive locations including the Jordan pond and Brown Mountain. Interestingly, there was a period when cars were not allowed on this road from 1908 to 1915. This prohibition resulted from disagreements between year-round residents of Mount Desert Island and the summer visitors regarding whether automobiles should be permitted to traverse the causeway and enter the park. Later, a summer visitor, John Rockfeller, intervened and proposed a feasible solution and road was eventually formally recognized.
By cruising Park Loop Road, it is easy to see Acadia's many attractions, from hiking trails to coastline panoramas. As such, it is strongly advised to take a leisurely trip over this road. This serene route also gives you the chance to explore the park's fascinating history in addition to its breathtaking natural beauty
Precipice Trail | squarespace
The most thrilling hiking experience in Acadia National Park is on the Precipice Trail. This very short but difficult hike includes an upward climb using iron bars shaped as ladders, and brief walks along extremely narrow edges with iron bars as seen in the pictures above. Due to the Precipice path's reputation as being the most hazardous hike in Acadia, it is crucial to have strong balance because this path exposes you to significant heights. For tourists that enjoy thrilling activities that proves challenging and dangerous, this trail is for you. Additionally, this path rewards you with some of Acadia National Park's most breathtaking scenery.
People have unfortunately fallen from these cliffs and suffered serious injuries, underlining the route's inherent risks. If you are afraid of heights or are traveling with little ones, it is recommended that you forego this trek. Most importantly, you should avoid the area during the rainy season since the terrain will be particularly slick.
Schoodic Point |  IG @gkretchy
Awe-inspiring and undisturbed views of the Atlantic Ocean may be found at Schoodic Point, which is located at Winter Harbor, Acadia Park, Maine. This region of the park, in contrast to other busier areas, is distinguished by its peace and reduced tourist density. Schoodic Point is well-known for its wild and gorgeous surroundings, making it a great place to discover rocky shorelines, see the force of crashing waves, take in towering cliffs, and uncover amazing hiking paths. If you want to take a break from the typical clamor and chatter of the surrounding, this is a very nice place to chill.
Bass Harbor headlight house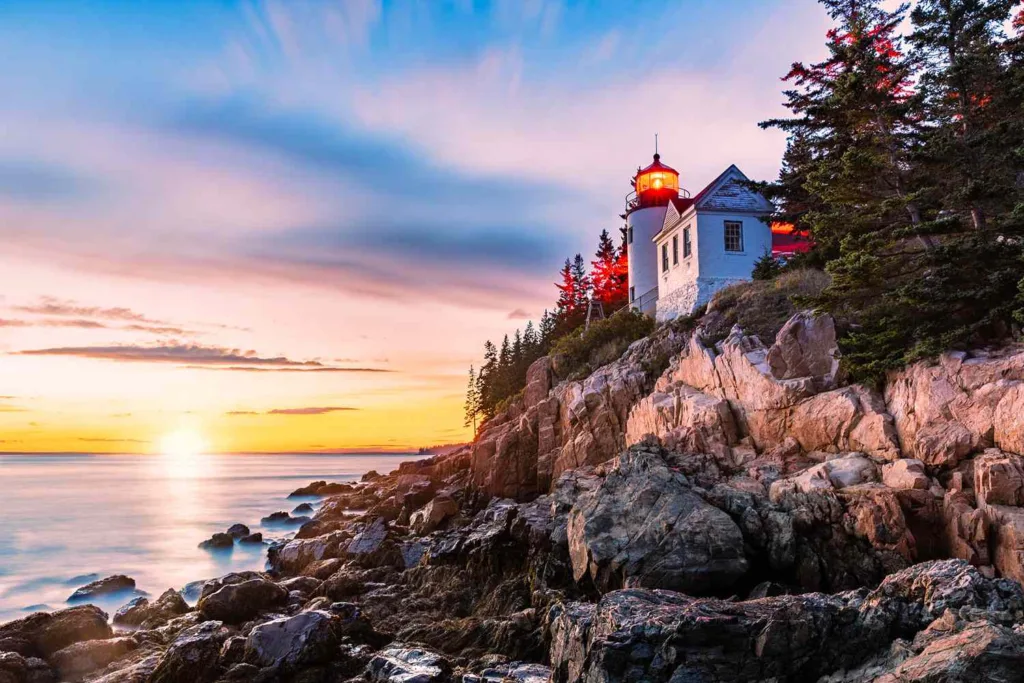 Bass Harbor Headlight House | @Acadiamagic.com
In today's society, lighthouses hold a symbolic meaning as they represent hope, guidance and the enduring power of love and friendship. The Bass Harbor Head Lighthouse perfectly embodies this symbolism. Bass Harbor attracts visitors who seek a retreat amidst the chaos of everyday life. A visit, to Bass Harbor evokes a sense of simplicity that reminds us of the beauty found in life.
Missing out on the chance to experience the lighthouse is simply unthinkable especially considering the surroundings that offer countless opportunities for capturing stunning 4KHD level photographs.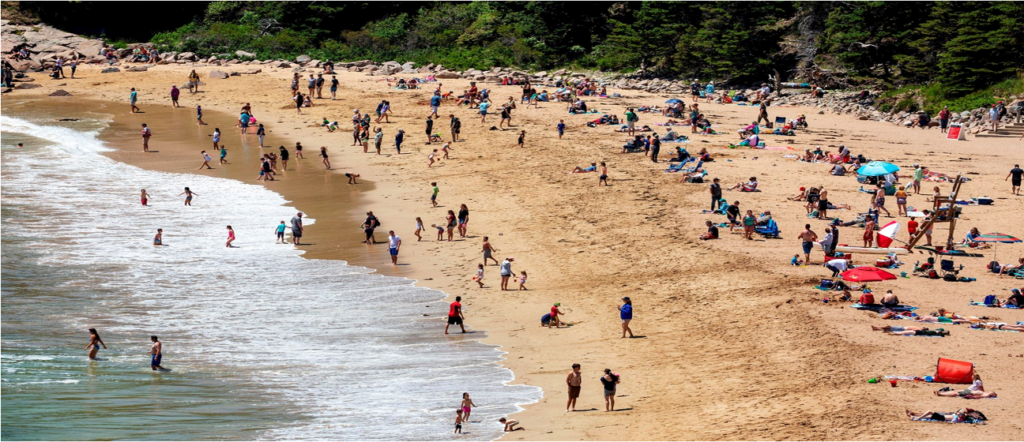 Acadia's Sand Beach is a must visit destination along Park Loop Road during the summer season. Surrounded by cliffs, this small strip of shoreline stands as Acadia's one and only sandy beach. Its pristine sands are hugged by cliffs and enchanting scenery making it an extraordinary beach destination. Whether you're looking to swim enjoy a picnic or soak up some sun rays, Sand Beach offers a setting, for all your activities.
Carriage Roads | National Park Service            
Here's another interesting road like the park loop Road in Acadia Park. The park can be assessed at Park Headquarters next to Eagle Lake. This road was designed and financed between 1913 and 1940 by John Rockefeller. He personally created the walkways, which spans around Eagle Lake, Jordan Pond, and Mount Desert Island, to showcase the Acadia park's stunning landscapes. These roads are perfect for those who wish to explore some of Acadia's less developed areas on bicycles, horses, and skates. The Carriage Roads are also open for skiing and snowshoeing in the winter, unlike the majority of other trails.
Recent visitors remarked that getting out for a stroll or a bike ride through these roads truly allows you to appreciate Acadia's beauty, and several visitors also advised going in the fall to watch the leaves change colour. There are also a number of hiking routes, notably Precipice Trail, that lead to the Carriage Roads.
Where is the park located?
Acadia National Park is located on Mount Desert Island, Maine, United States. To get to the park from anywhere in Maine, you can either go by train, air or by car. It's a direct route by car as you can just order an uber ride to Portland which is the closest town to the park and find your way from there. However, if you want to go by air, Bangor international airport is the closest major airport to Acadia, you can land there and take a drop or uber ride to the park as well. Lastly, you can take a train from wherever in Maine to Portland, then take a ride from there.
Acadia National Park Stats
| Category | Data |
| --- | --- |
| Location | Mount Desert Island |
| Size | 49,075 acres |
| Visitors | 3 Million annually |
| Highest Point | Cadillac Mountain (1530 ft) |
| Established | 1916 |
Vacation and Tourism in Maine
Need to explore the beautiful places in maine? We got all you need to know 
Checkout various activities you can enjoy at Old Orchard Beach
Ever heard of the amazing kennebunkport? Here is a quick overview 
Touring portland Headlight
Think headlights are old? Check out the beautiful things about the portland headlight