Hotels to stay in Isle of Palms
Numerous lodging options are available in the Isle of Palms and nearby areas, some of
which will be explored on this page. Visitors can choose from them in order to ensure comfort during their time on this nice Isle.
Wild Dunes Resort | IG @wilddunesresort
Wild Dunes stands out as an exceptional beach resort, presenting an array of hotels and vacation rentals that provide distinctive vistas, impressive facilities, and convenient beach access on Isle of Palms.
Furthermore, if you're a couple seeking a romantic getaway or arriving with your extended family, Wild Dunes Resort caters to diverse preferences, which includes; golf and tennis facilities, inviting pools, delightful dining options, and unforgettable outdoor excursions. Your ideal beach retreat is ready and waiting for you at the Isle of Palms.
Hyatt Place Mount Pleasant Town Centre
Hyatt Palace | IG @hyattplacemtptownecentre
Hyatt Place Mount Pleasant Towne Centre features a fitness center, shared lounge, a terrace and bar in Charleston. The hotel provides an indoor pool, free internet and many other amenities such as room desk, a flat-screen TV, a private bathroom, bed linen and towels. All guest rooms will provide guests with a fridge. Guests at Hyatt Place Mount Pleasant Towne Centre can also enjoy an American breakfast. That must be very nice and yummy! The lodge is also close to other attractions like Fort Sumter and more. Can there even be any reason why you wouldn't want to consider this accommodation option?
Array of Sunshine Condo | @fivestarproperties
This is another luxurious accommodation in the isle of palms. Array of Sunshine is another luxurious vacation home in the isle of palms vacation home that offers Wi-Fi. Situated by the beach, this charming property is located a short 2-minute stroll away, from the picturesque Island of Palms County Park Beach. This particular vacation home is well equipped with everything you need in a house including a TV, stocked kitchen, washing machine and more. It is also very close to the museum and golf tracks.
The Palm Oceanfront hotel
Palm Oceanfront Hotel | IG @thepalmshotelsc
The Palm Oceanfront Hotel is a luxury situated by the beach providing access, to the beautiful shoreline and breathtaking ocean vistas. Its proximity to downtown Charleston makes it an excellent choice for travelers seeking a beach retreat while still immersing themselves in the happenings of the city. The Palm Oceanfront offers a range of rooms and suites, many of which boast views of the ocean. The accommodations are designed with cleanliness and comfort in mind, creating a haven, for unwinding after a day filled with beach activities. The decorations have been thoughtfully selected to cultivate a coastal themed ambiance that promotes relaxation and harmonizes with the surroundings enhancing your experience during your stay.
Seaside Inn | IG @seasideinniop
The Seaside Inn is another lovely accommodation in the Isle of Palms. It offers welcoming rooms and suites with many providing views of the ocean. The interior design is tastefully done, keeping comfort and cleanliness in mind making it an ideal place to relax after a day spent enjoying the sand, sun and surf. Inspired by the surroundings, the decor gives a soothing ambiance that perfectly complements the beach experience. At Seaside Inn you'll find plenty of amenities to help you unwind and make the most of your stay. Take a dip, in the swimming pool after a day at the beach or bask in the sun and enjoy the sea breeze on their oceanfront sun deck. Additionally complimentary Wi Fi is available throughout your stay. Whether you're someone who loves spending time at the beach or someone who appreciates history or simply seeking tranquility Seaside Inn has something for everyone. Moreover, it's convenient location in Isle of Palms ensures access, to all of Charleston's attractions and rich history.
The Vendue Charleston Art Hotel
The Vendue Hotel | IG @jcroomblocks
The Vendue Hotel is a boutique hotel situated in the city of Charleston, South Carolina in the United States. This hotel is well known for its emphasis, on art and culture making it a perfect choice for art enthusiasts and traveler's looking for a lodging experience.
However, it's not located directly on the Isle, but guests can enjoy the best of both worlds as the hotel is conveniently positioned across the harbour allowing them to explore Charleston's history while also experiencing the serenity of the Isle during their stay, in this area.
The Spectator hotel | @spectatorhotel
The Spectator Hotel is a very reasonable choice for travellers looking for a stress-free hotel in Charleston. It is situated within Charleston City Centre. From all the hotels in Charleston, The Spectator Hotel is very much popular among the tourists. Its smooth management processes, flexible policies and friendly customer services garner great customer satisfaction for this property. You won't be disappointed.
Ansonborough Inn | @ansonboroughinn
For visitors hoping to visit Isle of Palms and other attractions in South Carolina, a top notch hotel, in Charleston, South Carolina, the Ansonborough Inn is a very good choice. It is located in the Historic District of Charleston known for its streets and excellent shopping opportunities. This area is rich in history. Boasts notable sites including the Charleston City Market, the Old Exchange Pro Provost and the Dungeon.
Additionally, there are plenty of shopping options at places like the Shops at Charleston Place and Rainbow Market Shopping Centre. While you're here make sure to explore the area and make time to visit South Carolina attractions, like the Aquarium and Charleston Museum. Guests truly appreciate how conveniently situated this hotel is.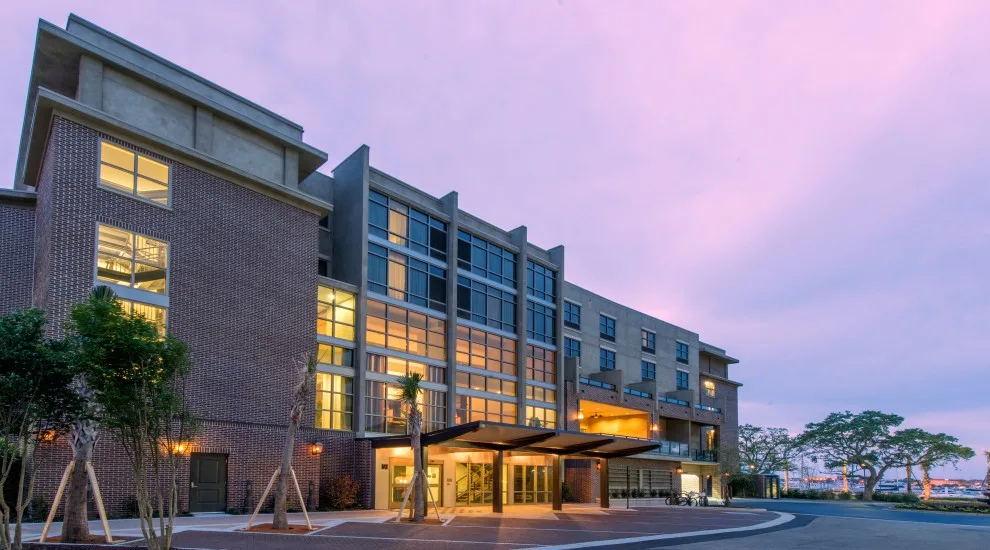 Hilton Garden Inn | @Hilton
The Hilton Garden Inn Charlotte is another lovely accommodation located near Mount Pleasant, North Carolina which serves as the gateway, to Isle of Palms. While it is not directly situated on the beach this hotel offers accommodations in proximity to various amenities. It serves as a starting point for travellers looking to explore the attractions of Isle of Palms while also having the opportunity to discover nearby destinations like downtown Charleston.
The Hilton Garden Inn enjoys a location within a drive from Mount Pleasant providing guests with easy access, to the island's beaches, restaurants and recreational activities.
Shem Creek Inn | IG @shemcreekinn
Experience the peacefulness of the waters, at Shen Creek Inn, a treasure in Charleston, few minutes to the Isle of Palms. You get to indulge in the ambiance of an inn by the dock, where you can savor a cold beer and delightful oyster rolls. You can also take a stroll or a bicycle ride along the waterfront, it's a very refreshing feeling. Relaxing and unwinding in your guest room while observing the passing boats is also a thing in the Shem Creek. Create memories as you bask in the splendor of Shem Creeks shoreline beauty.
Coastal Cottage | @booking.com
Coastal Cottage, situated in Isle of Palms is an abode boasting three bedrooms, making it an ideal destination, for a group beach retreat. It's convenient proximity to other tourist attraction spots in the vicinity such as the Dewee's Island Beach and Fort Sumter allows for exploration and discovery. Similar to the Palm Paradise, the cottage showcases a garden as well as biking routes for cyclists.
Hotel
Location
Price (Average)
Wild Dunes Resort
5757 Palm Blvd, Isle of Palms, SC 29451-2734
$225
Hyatt Place Mount Pleasant Town Centre
1600 Palmetto Grande Drive Mount
Pleasant, SC, 29464 United States
$165
Array of Sunshine condo
7600 Palmetto Drive, Isle of Palms,
29451, United States
$376
The Palms Oceanfront Hotel
1126 Ocean Blvd, Isle of Palms,
SC 29451, USA
$133
Seaside Inn
1004 Ocean Blvd, Isle of Palms,
SC 29451, United States
$183
The Vendue Charleston's
Art Hotel
19 Vendue Range, 29401, Charleston, USA
$206
The Spectator Hotel
67 State St, Charleston,
SC 29401-2012
$406
Ansonborough Inn
21 Hasell St, Charleston,
SC 29401-2601
$266
Hilton Garden Inn
300 Wingo Way, Mount Pleasant,
SC 29464-2839
$146
Shen Creek inn
1401 Shrimp Boat Lane,
Mount Pleasant, SC 29464
$209
Coastal Cottage
Isle of Palms, 29451, United States
$217
Isle of Palms Vacation Rentals
Nothing beats having a full rental with specifications you desire. Check tons of rentals available
Cheap and Affordable Accommodation
Been on a budget and getting the best, is something we all look for
Restaurants and Bars in Isle of Palms
Looking for the best food, cocktails or just a nice place to relax?