Hello, travelers and adventurers! I'm sure many of you have heard about the mesmerizing state of Maine. It truly is a place that encompasses a range of geography, culture and economic attractions. Only a handful of states can boast of this uniqueness making it clear how extraordinary Maine is. Are you curious to learn more, about this enchanting destination? Are you seeking insights and picturesque descriptions? Well, you're in luck! This article has been carefully crafted to unveil the captivating essence of Maine. So, sit back, relax as we explore the attractions and countless events that await you.
Maine | IG @ericstormphot
Where is this beautiful state located?
Maine is situated in the United States and shares its border, with New Hampshire while Quebec forms its boundary. The Gulf of Maine lies to the east and south adding to the states charm with its coastline, majestic mountains and dense forests. Visitors have plenty of known tourist destinations to explore such as Old Orchard Beach, Freeport, Portland Head Light and Acadia National Park just to name a few.
Why should you consider visiting Maine?
This captivating destination offers a range of thrilling experiences that cater to all interests. Here are some reasons why you should consider visiting;
Explore Acadia National Park
Acadia Park is a place with a deep heritage. Its strategic location offers for stunning Atlantic Ocean vistas from high viewing points, and it boasts a vast network of hiking routes. It has beautiful beaches, lakes, mountains, and other natural features. In the park, you may go on hikes, camp, ride bikes, and kayaks.
To explore other things, you can do in this park, visit here.
Visit Portland Head Light
Portland Headlight | Wikipeadia
Portland Head Light is another amazing place you can visit in Maine. It is regarded as one of the most iconic lighthouses in the United and it is located in Cape Elizabeth, just south of Portland. Visitors can tour the Numerous lighthouse lenses as well as its interesting displays to learn about its history.
Click here to explore the portland headlight.
Walk through Old Orchard Beach
Old Orchard beach | World beach guide
Old Orchard Beach, in Maine is a vacation spot known for its sandy beach, pier, amusement park and various enjoyable activities. Let's not forget the mouthwatering lobster that you can find everywhere in the state. From lobster rolls to lobster dinners. Staying at this resort will surely create memories.
To explore other things, you can do in this park, visit here.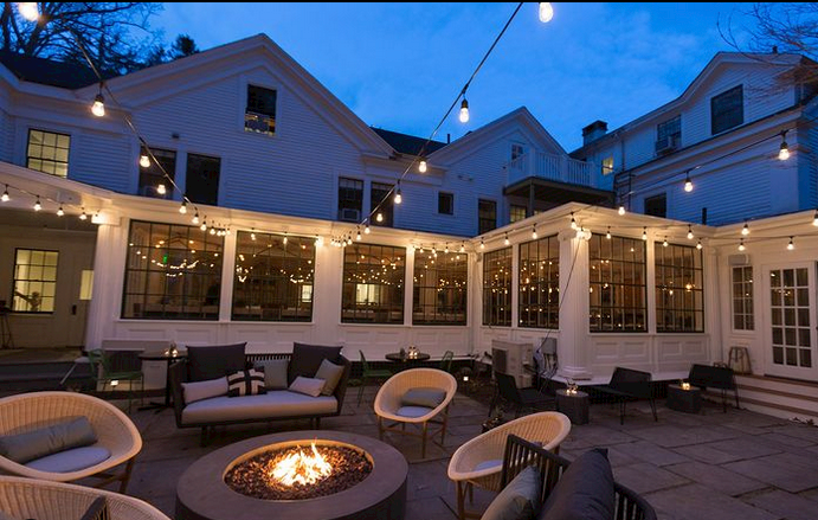 One of Portland's many restaurants | IG @visitportland
Maine also boasts two captivating destinations; Portland and Bangor. Portland takes pride in being the largest city in Maine. Is famous for its vibrant arts and culture scene as well as its diverse range of restaurants and breweries.
On the other hand, Bangor is known for its annual Stephen King Festival dedicated to honoring the literary achievements of the renowned author Stephen King. It also houses museums and art galleries that will leave you thrilled and enchanted.
Embarking on a journey, to these cities promises an exhilarating experience filled with excitement and joy.
Freeport photo mix | IG @thewompsrockandvisitfreeport
Freeport in Maine is well-known for having a lot of outlet retailers. Stores like L.L. Bean and Nike provide discounts on apparel, shoes, and other goods for visitors. Ensure you make a stop, and get some nice wears for yourself and family. They'll serve as souvenirs to remind you of your epic experiences in Maine.
Camden Maine | Wikipeadia
Camden, another charming seaside town in Maine, is famous for its outdoor activities, sea explorations, delicious seafood, and delightful shopping experience. By now, you must have realized the abundance of adventures that Maine has to offer. Moreover, Acadia National Park is conveniently close by making it easy to embrace the lifestyle.
Kennebunkport | IG @Kennebunkport
Similar to coastal towns in Maine, Kennebunkport boasts a rich and distinctive history. It was once a fishing village that has now transformed into a tourist spot, by the ocean. The vacation home of the Bush family also adds to its reputation. Whether you're seeking relaxation or adventure Kennebunkport caters to everyone's preferences and interests. To explore Kennebunkport, visit here.
Go skiing or snowboarding
Photos of tourists skiing | Portland Press
Maine offers a variety of ski resorts, such, as Sugarloaf and Sunday River. These resorts provide opportunities for skiing, snowboarding and other winter activities like country skiing and snowshoeing. Additionally, there are ski and snowboarding resorts in the state including Baker Mountain, Tit-comb Mountain and Spruce Mountain.
Fishing in Maine | osgnetwork
With its water resources that we have seen in our exploration so far, Maine is an excellent destination for fishing enthusiasts. The states numerous lakes and rivers allow visitors to enjoy fishing for species, like trout, salmon and more.
Visit a brewery and winery
Maine is also known for its craft beer scene offering tourists the opportunity to embark on brewery tours and savor the brews. The states wine industry is also experiencing growth providing visitors with vineyard tours and the chance to indulge in tastings of produced wines.
| Data | Values |
| --- | --- |
| Capital of Maine | Augusta |
| Largest City | Portland |
| Population | 1.3million |
| Area | 35,385 square miles |
| Climate | Humid Continental |
| Average Temperature | 43 degrees Fahrenheit |
| Average annual precipitation | 48 Inches |
| Major Industries | Tourism, Agriculture, Forestry and Fishing. |
The ideal time to visit Maine depends on your preferences. If you enjoy activities, like hiking and camping, the summertime offers cool weather and ample sunshine. Winter is perfect for skiing and snowboarding enthusiasts. For those captivated by the beauty of fall foliage, planning a vacation during autumn guarantees witnessing natures display of colorful leaves.
There are transportation options to reach Maine. The state's largest airport is Portland International Jetport (PWM) catering to visitors arriving by air. Alternatively, one can opt for a road trip from parts of New England or Canada.
When exploring Maine, traveling by car, bike or bus proves to be both cost effective and enjoyable. This allows you to soak in the scenery at your pace while experiencing interstate as well as local travel options that may include trains
Maine offers a range of accommodations such, as hotels, motels, bed and breakfasts and campgrounds. Visitors are fortunate enough to have the option of selecting the kind of accommodation that aligns perfectly with their preferences and financial capabilities. To explore them, visit here.
Maine has gained recognition for its assortment of seafood, which encompasses the likes of lobster, clams and oysters. To explore them, visit here.
Checkout the beautiful arcadia national park and various things to do
Checkout various activities you can enjoy at Old Orchard Beach
Ever heard of the amazing kennebunkport? Here is a quick overview 
Touring portland Headlight
Think headlights are old? Check out the beautiful things about the portland headlight